Frequently asked questions
How soon should I book your company?
---
Your date may already be gone, not to scare you but if you find any companies or suppliers you should consider booking them as soon as possible. While we can take a booking with just a day or two notice this is not advised. We do not sub-let out work to cater for multiple jobs. If we can't do it personally then we don't take on additional bookings. Contact us now about your wedding date
---
What is the running length of wedding videos?
---
Our style is to give you a documentary style video of a running time usually around 1h 30mins.
We also provide a highlight video for around 9 minutes.
If you would like us to make an Instagram 1 minute we can do that by request only.
---
What style of video do you abide by?
---
We couldn't honestly say it was one way, while we try to create artist cinematic style, we also try to respect a couple who would rather unintrusive. We ask every couple in our survey which they would rather we did. When couple a says "do what you guys think is best" this is when we do our best work.
---
Do you operate a drone?
---
We have an amazing Ultra HD drone and love to add this where necessary if we feel it will enhance our production. We might use it for establishing shots of the family home where a bride maybe getting ready or of a church and Hotel. Most often this will be done before or after a wedding day and when the weather is good.
It would be unusual for us to use a drone on the day of the wedding.
---
Have you registered and insured your drone?
---
YES, from day one we registered with IAA (Irish Aviation Authority).
We are insured to fly with Keystone Insurance.
All of this documentation is available to couples via your customer login portal and can be printed or downloaded if needed.
---
Do you or need a drone licence?
---
NO, here is why!
If you follow this 6 rules in Irish air space you don't need to have a drone licence
Rules from 1KG - 25KGs
Rule #1: Airspace Restrictions Keep away from (Prohibited, Restricted, Controlled)
Check the airspace using this site, https://www.flyryte.com/airspace
Rule #2: 5Kms away from Airfields
Rule #3: >30 meters away from people, cars & buildings. (without their permission)
Rule #4: >120 meters away from gatherings of 12 or more people
Rule #5: <300 meters of the pilot and unaided sight of the drone operator.
Rule #6: Keep blow 400 feet or 120 metres.
To act outside any of the above rules you must complete two days of school training and a flight test.
As we are happy to follow these rules which means we are exempt so no further permissions, certificates, insurances or training is required. But to just remind you we have insurance and rarely ever use a drone on the day of a wedding. Getting a drone licence is only a requirement in certain circumstances and it is likely that only commercial operators will choose to get a drone licence (pilot competency certificate).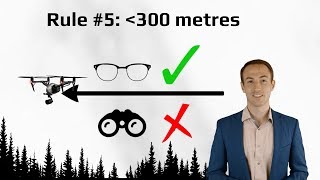 ---
How long will we be waiting for our film to be edited and delivered?
---
Typically it usually only takes about 8 to 10 weeks but during peak summer months it may take a week or two more.
We keep you up to date as and when we start editing your wedding film.
Communication is promptly key when booking My Forever Film.
---
How will our film be delivered?
---
We are all about convenience and speed when it comes to delivering your wedding film. Not only this but we want to future proof your film so that you know where it is at all times. We believe your wedding film should be accessible anywhere and anytime, online or offline.
We deliver it via Wedflow, this allows you to watch it on any device instantly. Wedflow allows you to download it for extra backup.
---
Can we get a hard copy of the film?
---
Yes, we can do this by request but we believe that many tradition formats like DVD or USB are on the way to becoming obsolete the only true way to future proof your film is to make it available online. Don't worry making it available online doesn't mean the whole world can watch it. We will password secure your video so that only the people you send the link to can view it.
---
How long will our film be available online?
---
All our deliverable films include 10 years with Wedflow. However, they are about to release an update allowing couples lifetime coverage for a very low fee of €100. Ask us for more info on this. Also please remember Wedflow allows for offline downloading if you don't need to add the lifetime package.
---
Do you take full control of the editing process?
---
Yes, we have done so many wedding films now that we now have the ability to create beautiful films using, creative shots with transitions and fully licenced music.
---
Will you use unrelated audio in our film?
---
No, while we like to mic up people at different points during the day don't worry we will only be using what is related to the scene at hand like vows, speeches etc.
---
If we give you some direction as to what we would like in our film is this a problem?
---
This is no problem. We often ask in our survey if there is anyone or thing you would especially like us to add to let us know and we would be more than happy to accommodate this. We have been asked to focus a bit on 'wedding car, dogs, grandparents, kids' etc.
---
Will you use our film on your social media sites?
---
Not always, however, this does help us to raise awareness of our brand and business, perhaps you found us this way and the hope is that we can attract new clients by seeing your video and the way that we edit and deliver. If you specifically don't want your video published please tell us and make us aware of this at the time of booking and we will respect your decision.
---
Where are you based?
---
In Waterford, we are happy to travel all over.
---
Can we book you now and pay a small deposit?
---
Yes, from what we can see we are offering the smallest deposit amount of just €100.
We set up your account you can even make regular payments of any size by just logging to the account we will set up for you. You will see payment history and many of our customers love this feature.
---
How many videographers will be working on our wedding?
---
For our Bronze package and to keep your budget as low as we can then we only use 1.
Our most popular package the 'Full Story Film' we use 2 videographers. There is a big difference in the final product as you can imagine between the two packages. Check out our packages here.
---
Why if its called a Pay Later package do I have to pay €150 retainer?
---
We need to be sure you are serious about booking our service and at the same time putting a black date on our booking system meaning we can't take any other bookings for video on your wedding date. While we are happy to work your wedding we will have costs for 2 videographers to drive to your event along with other expenses such as fuel, food during the day and other.
---
Can our retainer for the Pay Later package be used as a down payment?
---
Only if your pay the total amount with-in 2 weeks after your wedding.
---
What happens if we dont pay the full amount for the Pay Later video with-in 3 months?
---
We would hope you would honour the contractional agreement and your word and pay for the work we carried out on your wedding before the 3 months has passed, we will make you aware of the date upon booking and remind you when that date closes in.
If the balance is not cleared then you risk losing your wedding film as to make hard drive storage available for other weddings.
---
---